LESLIE LEHMAN IN NEW YORK, USA:
"TRY GETTING A 14FT KING KONG HEAD IN A BUILDING ON TIMES SQUARE"
In "The World of…" we're flying around the world to visit facility managers in many different countries. This month we're in New York, USA to visit facilities manager Leslie Lehman at Madame Tussauds. Welcome in The World of Leslie…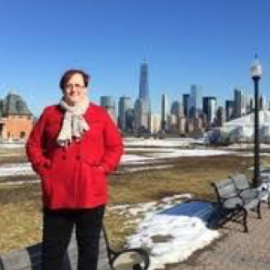 YES: So you are the facility manager of Madame Tussauds in New York, that must be pretty exciting!
Leslie: "I really love what I do, it's a very challenging job and also stressful at times but the diversity of it all makes it a lot of fun. No two days are the same: I can choose whether I want to work from behind my desk or to walk through the attraction and see what work we still need to do. I think what's exciting about my job and facility management in general is that it is interesting because you need a wide range of skills."
Y: How would you describe your job?  
L: "Well this is actually very difficult to catch in a short answer, because I think so much falls under the umbrella of facility management in general. As a facilities manager at Madame Tussauds, I am responsible for maintaining the physical assets of the building that we're in. Besides that, I am also responsible for health and safety and cleanliness of the building. I work with a team of about 15-20 supervisors, technicians, housekeepers and managers to make sure our building keeps running and most of all stays safe every day. But it's not just that, in the meantime I should also be thinking about project management, rules and regulations that may adjust over time, risk management, new technologies I may want to be using, how to be sustainable etc. Like I said, facilities managers are expected to wear a lot of hats."
Y: Out of all the things that you do on a daily basis, what do you consider most important?
L: "We welcome huge number of visitors into the heart of Times Square every day. On a busy day we have about 6,000 visitors in the building so health, safety and security are my number one priority."
Y: That definitely sounds like a challenge. You mentioned earlier on that a facility manager wears a lot of hats. Did you obtain a diploma in facility management or did you – as did a lot of us – roll into it?
L: "I had my own construction management business for more than 15 years, in which I gained a lot of knowledge and experience in everything concerning buildings and building maintenance. About ten years ago a facility management job crossed my path. I started out with a small family business, I received a FM degree through a 2-year educational program and perused accreditation from IFMA so I now hold an FMP (Facility Management Professional) and CFM (Certified Facility Manager). I stayed with the same organization for 6 years. As I had a construction background, a move to facility management did make sense to me. After that I went to work for Merlin Entertainments Group to work for their LEGOLAND Discovery Center Chicago and not that long after I moved to New York for my current position."
Y: And here you are, ten years later and still in facility management. Do you also look at other countries for inspiration or other ideas about facility management?
L: "To be honest, not really. We do have a facility management team in London that is thriving. I am going over there later this month because I want to hear more about what they do, why they do it and how they do it. Hopefully I can take home some new ideas and best practices. Also, I'm not sure if looking at different countries would do the trick for me. A corporate organization in Amsterdam is way different from my attraction in New York so I think we should be looking at similar organizations more so than different countries if we are looking for inspiration that we can use in the workplace right away."
Y: Being in facility management myself, I always want to know what's going on in our business. Do you follow different media channels to stay up-to-date?
L: "I rely on IFMA quite a bit; I use their resource library as they have a large amount of resources. I also Google a lot of things I don't know, or talk to peers at different facility management events. Besides that I also tend to rely on my vendors a lot. I know that a lot of facility managers don't feel comfortable giving vendors too much space, but I want my vendors to advise me on the matters they are working on as they are subject matter experts. They can really provide you with great information."
Y: I can imagine you would be talking to peers about challenges for example. What are the main challenges within your current job?
L: "On a management level, I think the number one challenge is recruitment. We really do have a shortage of facility management professionals in the USA and we – as a lot of other organizations – have difficulties finding the right people. I just hired somebody for a position that took me two years to fill. Also, budget constraints are a challenge. I think a lot of facility managers will recognize that we are seen as a cost center and when budgets are cut, it will affect our department greatly. We try to balance both challenges by training the staff we do have and make sure they have the right skills. We also prioritize our tasks, and it does work. We have gotten an even better idea of the building, even though we really are still short in staff."
Y: What skills did you develop through this process?
L: "I think the biggest learning for me is actually being able to do theatrical lighting. I would have never learned how to handle that if it weren't for this job."
Y: Is that also what you're most proud of?
L: "I think I'm most proud of our Kong Skull Island exhibit.. Though it was a huge challenge for us to build, our guests loved the final experience. I mean, go and try to get a 14ft King Kong head into a building located on Times Square. I never thought I would be having conversations on how to get King Kong's nose in the building without any damage to either of them! Let alone security, non-stop traffic, pedestrians everywhere. It really was a unique challenge."
Y: I'm sure these type of conversations and the diversity of your job would appeal to a lot of young students. What would you advise to those that want to be involved in facility management?
L "I would say try to learn as much as possible. You need such a diverse skillset to be in facility management, so try to learn a bit of everything. Also, there are so many different job opportunities within facility management. If you are still young, go and try different jobs, different areas of facility management. This way you will be able to learn what you like most and also gain experience in different fields of facility management. It's really a great career path, and especially today there a lot of jobs in the USA particularly."
Y: Sounds like you're not nearly done with facility management. If you could pick anything, what would be your ultimate job?
L: "I never thought about that actually. It would have to be in facility management, it would just be a matter of what would be my ultimate building I'd want to manage. It has to be the holy grail of buildings. For me, Buckingham Palace would be a great example of that as I love historical buildings. Also, the United Nations building in New York would be cool as it attracts so many people from all over the world. Well, you never know right?!"