MARTIN RUPPE IN VIENNA, AUSTRIA:
"EVEN THOUGH FM IS OFTEN NOT VISIBLE TO MANY, WITHIN OUR COMMUNITY, WE'RE VERY VISIBLE TO EACH OTHER"
In "The World of…" we're flying around the world to visit facility managers in many different countries. This month we're in Vienna, Austria to visit facility consultant Martin Ruppe at Erste Bank's future proof Erste Campus. Welcome in The World of Martin…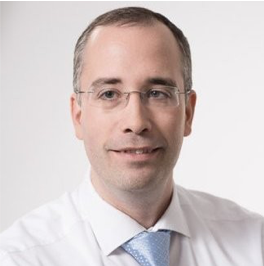 YES: So Martin, you're the lucky one working on the brand new Erste Campus in Vienna. How does that feel?
Martin: "I am still thrilled to walk into our building day after day. I'm a very visual person and our new campus is such a nice surrounding to get things done, so I'm really excited to work at this office."
Y: For those who have missed the Austrian headlines or didn't see you speak at World Workplace Europe last year, please tell us more about this amazing project.
M: "Right, so I am an in-house FM consultant for Erste Bank. This means that I'm responsible for facility management systems on one hand and data analytics for buildings and workplaces on the other hand. From that perspective I got involved in a massive project a few years ago. We were responsible for building the new Erste Bank headquarters in Vienna, which had to be up and running by the end of 2015. It was such a large workplace project which made it really unique and so it was all over the news."
Y: What are you most proud of?
M: "We worked together with a group of people from different backgrounds. We had HR, IT specialists, people from the core business, the users, and of course FM included. So we worked together from the very beginning. Particular attention was placed on really understanding the needs of the future users of the building. Such a great collaboration allowed a successful move. We used more than two years for the change management process. We had lots of conversations, we had clean up phases in which people were urged to get rid of "old" files and archives. It really broke down barriers. All seem to feel really good in the building and are proud to invite people to show off their new work place."
Y: This sounds quite perfect, but we both know that the life of an FM can be challenging too – in a positive way. What's your biggest challenge?
M: "I think that in general, FM is seen as a cost center most of the time. It can be quite difficult to prove the added value of the FM organization, perhaps it's hard to measure all aspects. We all know that if people feel comfortable, they will be less ill, more productive etc. An efficient and pleasant working environment is our contribution, but it's still hard to quantify."
Y: I can imagine that these are the strategic challenges you're facing, I also think a lot of us are facing the same one. On a more daily basis, what does a day in your week look like now that the building is up and running for three years?
M: "Well… it's about firefighting most of the time. I think everyone working in facility management will recognize that we do a lot of firefighting. We have to be prepared to deal with the unexpected. In addition, I'm responsible for keeping all facility management systems up and running and up-to-date. I am also the contact point for the different departments to address and integrate their needs into the system and monitor data gathering in general."
Y: What's the most important piece of data for you and how do you manage this?
M: "We can tack a lot that is going on in the building, but we try to focus on the most meaningful KPIs. We collect all usual data about the building such as usage of space or whether maintenance is being done within the service level agreements. But we also collect data on occupancy rates, electricity and water usage, etc. We use different metrics, most are live and automated through our systems."
Y: In my opinion, the diversity that shows from all these data is very typical for FM. We really need to know a little something about everything. How would you define FM?
M: "In German, we would say Mädchen für alles, which means someone who can do everything. I think we have created an image of being able to fix any problem. "Ask the facility manager, he/she will fix it." What also defines facility management for me is the fact that you are really in contact with everyone in the organization. There is basically no way to avoid FM, because how else would you park your car or get into the office building? We are very hard to avoid even though most people don't see us. I do have to say that the image of our department really involved with our new building. Prior to the move, we were just the guys who were fixing what was broken. Now, people realize we're the team behind their awesome new workplace so our department got a big uplift."
Y: Do you think that being "invisible" makes a job in FM less attractive?
M: "I think it's important to remember that, even though we sometimes feel invisible to others, we are not, particularly to each other. The facility management community is close-knit. We are working together as a team and we are achieving very cool things together. Those are exciting times. I do think that because we are a silent driving force behind a lot of buildings, many people don't always realize what we do. A lot of us – including myself – stumble into FM and only realize then how great it is. We have to keep working hard on promoting FM as a career of choice."
Y: The FM community is indeed very close, I think you can notice that at worldwide events where we gather as if we are family. Do you turn to your international "colleagues" a lot for inspiration and support?
M: "There are many differences in FM between countries. For example, the Netherland is very service orientated while Scandinavia is much more human focused, and Germany and Austria focus in maintenance. Exchanging with others helps me to step out of my daily routine and look at others, their challenges and their solutions. It's nice to see differences with other countries: as you can always take back new lessons learned. In addition to international FM meetings and being an active member in several FM networking groups, I try to stay up-to-date by reading a lot. I would recommend the whitepapers by ISS, they are a really good source for a general overview. I also follow the WE community (IFMA Workplace Evolutionaries) for updates on workplace management and I enjoy the podcast by Mike Petrusky."
Y: What would be your advice to young FM's or young professionals looking for a career in FM?
M: "Facility management is a wonderful profession that allows you to do so many different things. I would advise to get involved in local and international FM groups to get to know others but also to share and obtain knowledge. It helps widen your horizon."
Y: Last but not least: if you could pick any job and place in the world, where would you work?
M: "I would definitely still be working in FM. It would be a cool challenge to work in Russia, because the development of FM is at an earlier stage than for e.g. in Austria. Asia. There are so many huge buildings projects going on. Or Australia in terms of ocean and sun would be great. I have friends and family all around, so who knows…"