CATCH UP WITH SARAH STERNS FROM THE USA:
"I'D LIKE TO CALL THE SPACES MY TEAM AND I CREATE HOME, AS WE SPEND SO MUCH TIME IN THESE SPACES."
In "The World of…" we're flying around the world to visit inspiring individuals in the facility management field. This month we're in The United States, visiting a fast-growing tech company called Indeed.com. That name may ring a bell: Indeed.com is one of the largest job platforms in the world. We're catching up with Sarah, who is one of the Senior Workplace Strategists. We asked her a ton of questions, to learn more about the process of creating the coolest workplaces.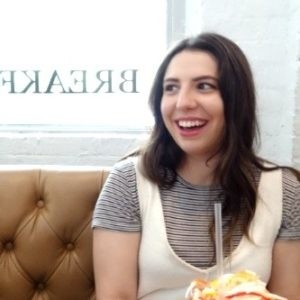 YES: Let's start out at the very beginning: can you please tell us who you are and what your background is?
Sarah: "My name is Sarah, and I work as a Senior Workplace Strategist for Indeed.com based in New York City. I've been in this role for a few years now, but I don't have a Facility Management related background. Actually, almost nobody does within our Workplace Strategy team. I went to design school where I got a Bachelor in Communications Design and have been working as an Art Director after that. I kind of rolled into this job. But I would say my background is very helpful to bring the workplace vision to live."
Y: Can you explain what responsibilities come with your role?
S: "Yes, so my role is to work side by side with the construction manager to create and build spaces. Or homes for the employees in the company as I'd like to call it. I am in charge of developing the design alongside with the architect. Together, we make sure that the brand stays consistent within every property so I do a lot of concepting. I'm involved in the entire process. From checking out the property that we want to lease up until when the property is delivered and ready to use. After that, I hand it over to the Facilities team, who is then in charge of the daily business at that property."
Y: I love that you're calling these spaces homes. Is that a word that reflects your company culture or is it just a word that you feel is appropriate personally?
S: "I think it definitely has to do with company culture, I'm not sure if others call it home too but I think it makes sense. We spend more time at the office than anywhere else so we try our best to actually make it feel like home. You'll see it in designs when you visit our offices: it's much more residential than it is an office space and it has all these break areas where you can relax for a little bit when you want to. We have so many crazy amenities, too."
Y: Now I'm picturing Google slides and ice cream! Can you give examples of the amenities in the Indeed.com properties?
S: "At the engineering sites we have video game rooms with giant walls filled with TV monitors and tons of game consoles. And then we have playrooms with pool tables, beanbag toss and other games. We have meditation and prayer rooms, a yoga studio, yoga and boot camp instructors coming in for a class, we have huge cooking kitchens and, in some locations, we even have nap rooms. In Japan for example, you don't leave the building until your boss leaves. You don't necessarily have to work, but you have to be there, so it's completely normal to nap during work, which is why we created nap rooms in some locations too."
Y: That sounds awesome, and also an exciting challenge to take local cultures into consideration. Is there a blueprint for all locations when it comes to design and amenities for example?
S: "Yes we do have a standard programming, but that is mainly focused on square footage. When we start looking at properties, we always calculate the square footage that we're going to need per person. In that calculation we include workplace but also conference rooms, phone rooms, amenities etc. so that we know what to look for. Of course, when you're looking at a property you also keep an eye out for everything that needs to be done to make it an Indeed.com property. Sometimes we need to add amenities that are standard for us but that aren't present at the property yet. Then we also do a feasibility study with the architect who makes a preliminary blocking plan."
Y: So, after that, the lease is signed and the process of remodeling basically starts. How long does it take to deliver a property?
S: "The whole process including the property review usually takes up to a year. That includes everything from signing the lease to having all the programming in check and from the space plan to the design development and actual building phase. This is actually quite short if you would compare it to usual construction project that could easily take years. But we are growing so fast that we don't have a choice – we have to work at a certain pace because we want our employees to have a suitable office space so that they feel supported in the work that they do. We don't want to disrupt people in their work because we're moving them."
Y: Is the majority of all projects focused on expanding to a new area or adjusting properties in areas where you're already located?
S: "About 80% of all projects is taking place in existing area. We then need a bigger space for example. Usually, people stay at their current workplace and we move them to their new workplace at the very end of the process. But sometimes we move them into temporary sites such as a co-working space. For new areas, we sometimes already have people working in those areas on a remote basis or we will be hiring a lot of people in that area as we're expanding there so that's a very different process. Either way, the basics of the project are similar because we have the programming standards to work from. As a Workplace Strategists team we also have guidelines for architecture, furniture, construction etc. Because at the end of the day you want the Indeed.com image to be reflected in the buildings."
Y: What has been your coolest project so far?
S: "We did a great project in Austin, Texas that I loved because of the architecture. We leased out the entire building, and we were then able to put a seven-story interconnecting stairwell in the building. From the first floor you could look all the way up – very cool. And then we did a project in San Francisco that just went perfectly. We had everything planned out perfectly the team was working together so well, we had amazing vendors. Kind of a dream project. And design wise I'm going to deliver a property in New York soon where I had a lot of freedom together with the architect. That makes it really cool to see your vision come through in the end result."
Y: How would you describe the Indeed.com image?
S: "We want to reflect that in the workplace by making sure that spaces are overwhelming, true to form. But also natural and make sure that spaces are friendly and fun. Because that's what our corporate culture is like. We are a friendly and fun internal group of people. That is also reflected in how we work together. Or through the events that are organized from the different communities within Indeed.com."
Y: The end of the year is always a busy period, what will you be working on towards the end of 2019?
S: "In a few weeks I'll definitely start a busy period again. We have 16 properties to deliver as a Workplace Strategists team before the end of the year, and I have a few including the one in New York I was telling you about so I'm going to have my hands full until Christmas!"