CATCH UP WITH VIVALDO LIMA FROM BAHIA:
"WHEN I ARRIVED, WE RESTRUCTURED THE WHOLE TEAM. WITHOUT A FOCUSED TEAM, THERE'S NO WAY TO CUSTOMER SATISFACTION"
In "The World of…" we're flying around the world to visit inspiring individuals in the facility management field. This month we're in Bahia, Brasil to visit Vivaldo Lima. We'll talk about his fascinating experiences in Facility Management as well as his role during the Rio Olympics in 2016.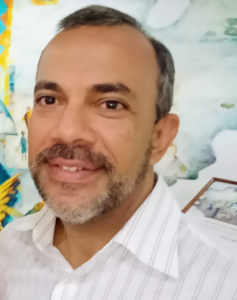 YES: Let's start out at the very beginning: can you please tell us who you are and what your background is?
Vivaldo: "My name is Vivaldo and I am an Engineer and Project Management Professional. For the last twenty years I have gained executive experience in the management of large projects, start-ups and facilities, acquired in large national and multinational companies. I'm from the State of Bahia which is in Brazil and I live there with my family and three boys!"
Y: We know that Facility Management has a different meaning almost in every country. You are working on the "technical side" of Facility Management, often also called the hard services side. Can you explain what your current role is?
V: "I am currently working as a general manager in one of the largest residential condominiums in Brazil, with 1138 apartments, distributed in 18 towers of 16 floors including 19 ballrooms, 6 movie theaters, 6 game rooms, 6 playrooms, study rooms, a soccer field, a skate park, 6 playgrounds, 16 swimming pools, oh well – you get it: you name it, we have it. To keep this all going, we have a lot of technical installations including 55 elevators, 7 generator sets, 96 motor pumps and 38 water reservoirs. We try to keep this all maintained as well as we can for the approximately 5,000 people living here."
Y: This sounds like a city of its own! What does an average day in your life look like?
V: "On a daily basis, I feel like a mayor of a small town. Listening to the different demands, complaints, suggestions. Also talking to all the stakeholders, negotiating and dealing with owners and employees in order to seek for better solutions. I also deliberate execution of services and various actions. Seeking optimization of resources and processes in order to maintain the pace of continuous improvements. One of the important things I am also responsible for but more on a periodic scale is the flight plan reevaluation. This is highly important if you have so many people in the same spot."
Y: What kind of services does your team provide or take care of?
V: "So, we have an annual budget of about 5 million USD and with that, we make sure that security is taken care of to keep people safe, that the buildings stay clean and maintained. Those are also the services that are most visible to people. We also have activities and large events that you could compare to those at large luxury resorts."
Y: What would you say has been your biggest challenge?
V: "When I got here, the team wasn't structured properly and doing what they were supposed to do. I found a lot of people that were not motivated because of a lack of training and lack of clear objectives. If you don't have those elements, you can't pursue customer focus and satisfaction either. So we did a complete restructuring of the team: of the administrative and operational processes, generating improvements in the quality of services, improvement in productivity and optimization of resources, in addition to a recognized increase in satisfaction. Major infrastructure projects were carried out, adding value to the project as well."
Y: You have restructured the team and changed the objectives, what would you say has been a key to success for the increase in customer satisfaction?
V: "FM is made of people so the secret to achieving satisfaction is people. We need to focus on working as a team and work towards that same goal together. Managing and mostly also caring for people is the secret to success."
Y: How else do you focus on customer satisfaction?
V: "FM-related services are always the most sensitive, as they affect people immediately and directly. Therefore, this management needs to be as effective as possible, in order to exceed users' expectations. In addition to mandatory legal techniques and regulations in the provision of services. I believe that to achieve excellence, it is necessary to have the thought of serving. Serving people must be the objective from the main managers to the employees that are in the execution of the services. And this idea of ​​caring for people will only be incorporated by employees if they also feel cared for by their managers."
Y: Absolutely, I think personal attention is extremely important both for our teams and our customers. Before we close off, I want to briefly ask you about your experiences in the past as well. Because you had the absolute honor of being part of the organization of the Rio 2016 Olympics. Can you tell us more about your role?
V: "Yes, I was responsible for the delivery of Vila dos Atletas, working both in the planning and in the assembly and operation of facilities for the seven condominiums with a total of 3,604 apt (a small town of 30,000 inhabitants). As this was a 2 billion project, this was huge."
Y: That's huge! Can you give us some final insights as to how you managed to make that work?
V: "We assessed the needs and negotiating directly with the different delegations from all countries. We defined all requirements when it comes to technology, communication, transport and logistics. The buildings with a total area of over 500,000m2 were also LEED certified so we had to take that into account as well. Oh, and we built the largest temporary tent ever in South America! Safe to say we had a lot going on. The operation of the entire Olympic Village at the Olympic and Paralympic Games was undoubtedly the greatest challenge and consequently the greatest learning of my professional career!"